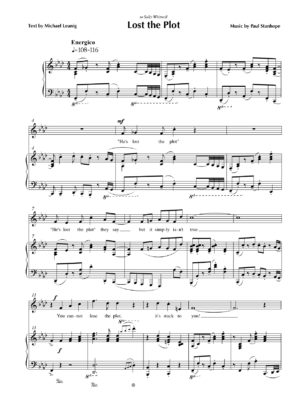 By Paul Stanhope
Voicing Treble Voices
A collection of four pieces for treble voices and piano. Click the links below to view purchasing information.
Composer Paul Stanhope writes:
Losing the Plot is a collection of songs for children's voices and piano with texts by Michael Leunig. They were written as a follow up to my earlier cycle of Leunig pieces called Songs of Innocence and Joy for treble voices and chamber orchestra.
The first of these pieces, Talking to My Shoe was commissioned and premiered by the Sydney Children's Choir as part of their 15th anniversary in 2004. The remaining three songs in the cycle were commissioned by the Network of Treble Ensembles (NoTE) which includes Brisbane Biralee Voices, Gondwana Voices,Young Adelaide Voices and Young Voices of Melbourne. All the songs in this set are tinged with an exuberant sense of the absurd, but as usual with Leunig's texts, there are many layers of meaning and often twists in the tale.
The songs are written for upper-primary to high-school aged treble voices mostly in unison and two parts. In two songs—Talking to My Shoe and La–La Land—the choir splits into three parts, but only in a couple of short passages. A more difficult version of this piece also exists with the voices divided into three parts.
Permission should be sought from Penguin Books Australia before re-printing any of the texts.
The recordings are by the Australian Boys Choir conducted by Noel Ancell.